Learn how you can get involved in the life of the church community
and invite a friend to church this weekend!
Our community groups are designed to help cultivate genuine relationships within the church. We meet to know one another, help each other grow in our faith, and meet each other's needs. We usually meet in homes twice a month and have various groups that meet in different neighborhoods of Pasadena, Altadena, South Pasadena, and Monrovia.
Our children's ministry is called Grace Kids and serves children from toddler to 6th grade. Our goal is to disciple our children by providing them with a safe, fun, and encouraging environment to learn more about God and His plan of redemption— the gospel of Jesus Christ— through a biblical curriculum designed just for them. We use Ministry Safe to ensure that each volunteer is qualified and trained to serve our children.
Our youth group is called Grounded For Life and exists to help disciple the next generation. We teach our teens to apply God's word to their lives, trusting that it is the power of God to save and transform them into young men and women who love and worship Him.
We are called to make disciples, and that includes raising up new leaders in the church. We offer Leadership Training Classes and Pastoral Training Classes to help develop, train and equip leaders.
Find a place where you can serve the church and our community.
Sunday services have a lot of moving parts and require many members of the church to serve. Ranging from public platforms to behind the scenes, there is a way for everyone to serve on Sundays.
Ministry Teams provide a wonderful way for us to serve alongside others as we meet the needs of the church. While some of the ministries may require a certain skill or gifting, the vast majority of ministry opportunities are open to anyone. You will find people of all backgrounds and stages of life serving together in meaningful ways.
Explore Sovereign Grace Church
What's my next step? Learn more, start planning your visit, or get directions!
What we believe about the Bible instructs everything that we value as a church.
Get to know the team that humbly serves and loves our church.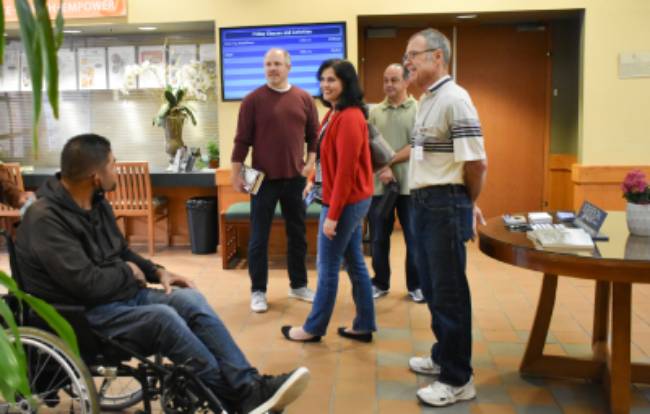 Take the next step by learning what you can expect on Sundays.